cuarteto o quinteto: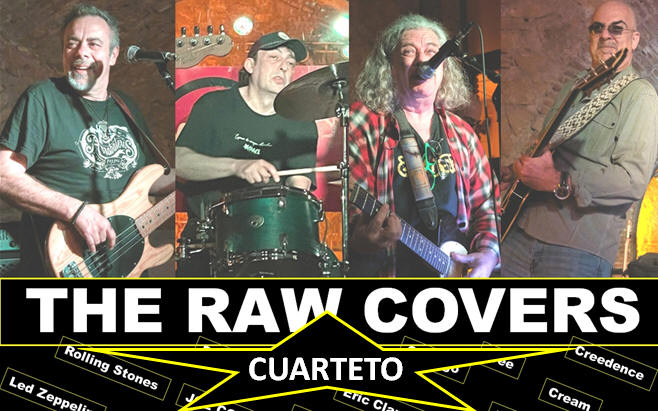 ROCK-FUNK-SOUL-BLUES
Contacto: CHEMA ESPEJO
630414532 chemaespe@gmail.com
SET LIST BY ALPHABETIC ORDER
ALWAYS ON THE RUN-LENNY KRAVITZ
ALL RIGHT NOW-FREE
ANOTHER BRICK IN THE WALL-PINK FLOYD
ARE YOU GONNA GO MY WAY-LENNIE KRAVITZ
BEFORE YOU ACCUSE ME-ERIC CLAPTON
BLACK NIGHT-DEEP PURPLE
BORN TO BE WILD-STTEPENWOLF
BORN UNDER A BAD SIGN-ALBERT KING
BROWN SUGAR-ROLLING STONES
CAN'T FIND MY WAY HOME-BLIND FAITH
CAN'T YOU SEE-MARSHAL TUCKER BAND
COCAINE-J.J. CALE
COME TOGETHER-BEATLES
CROSSROADS-ERIC CLAPTON
GIMME ALL YOUR LOVING Z Z TOP
GOING DOWN-JECK BEEF GROUP
HARD TO HANDLE-BLACK CROWES
HEY JOE JIMI HENDRIX
HONKY TONK WOMAN-ROLLING STONES
HOOCHIE COOCHIE MAN -MUDDY WATERS
I'M ON FIRE-BRUCE SPRINGSTEEN
I FEEL GOOD-JAMES BROWN
I JUST WANT MAKE LOVE-ETTA JAMES
I SHOT THE SHERIFF BOB MARLEY
LITTLE WINGS. JIMI HENDRIX
I STILL HAVEN'T FOUND- U2
IN THE MIDNIGHT HOUR-TINA TURNER
IS THIS LOVE-BOB MARLEY
JUMPIN JACK FLASH-ROLLING STONES
KEEP ON ROCKING IN THE FREE WORLD-NEIL YOUNG
KILLING FLOOR-HOWLIN' WOLF
KNOCK KNOCKING HEAVEN'S DOOR- BOB DYLAN
LAND OF 1000 DANCES-WILSON PICKETT
LITLE BY LITLE-B.B. KING
LONG TRAIN RUNNING-DOOBIE BROTHERS
LOVE THE ONE YOU'RE WITH-C/S/N/YOUNG
PLAY THAT FUNKY MUSIC-WILD CHERRY
PROUD MARY-C.C.REVIVAL
ROADHOUSE BLUES-THE DOORS
ROCK & ROLL -LED ZEPPELIN
SATISFACTION-ROLLING STONES
SMOKE ON THE WATER DEEP PURPLE
THEM CHANGES-BUDDY MILES
THESE BOUTS ARE MADE FOR WALKING-NANCY SINATRA
THE TRHILL IS GONE-B.B. KING
UNCHAIN MY HEART-JOE COCKER
WALKING BY MYSELF GARY MOORE
WHILE MY GUITAR GENTLY WEEPS-BEATLES
WILD HORSES-ROLLING STONES
WHITE ROOM-CREAM
YOU REALLY GOT ME -VAN HALEN
Y TAMBIÉN TEMAS EN ESPAÑOL:
AGRADECIDCADILLAC SOLITARIO-LOQUILLO
EL LÍMITE DEL BIEN Y DEL MAR-LA FRONTERA
EL REY DEL GLAM(Blues)- LOQUILLO
EL ROMPEOLAS-LOQUILLO
LAS CHICAS SON GUERRERAS-COZ
MANERAS DE VIVIR-LEÑO
MUEVE TUS CADERAS-BURNING
MUJER TOZUDA-CRUDOS
NO DUDARÍA-ANTONIO FLORES
INSURRECCION-EL ÚLTIMO DE LA FILA
PONGAMOS QUE HABLO DE MADRID-SABINA
R &ROCK STAR-LOQUILLO
SABADO EN LA NOCHE-MORIS
SI HAY MANERA-RONALDOS.
Vídeos...